Time-off notice: no new posts for the time being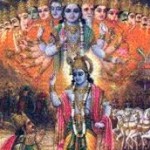 Seth R. Bordenstein and Kevin R. Theis's "Host Biology in Light of the Microbiome: Ten Principles of Holobionts and Hologenomes" combines impressive qualities.  It suggests no less than a holistic redefinition of zoology, botany, and biology.  And they are careful to re-state historical achievements of Darwin, Mendel and modern scientists in this new framework; animals and plants are more appropriately understood as a mutli-species association than autonomous individuals.  Both at biologic and genetic level.
As a sense of justice welcome the new status of our former 'junior' associates, I wonder how the implosion of the self into a multitude of beings fits well in a society that may overvalue individuality.  Instead of a dissolution of the self into a common spirituality, we see the multiplication of 'I' into multiple individuals.  The untold story of mitochondria et alii paints egocentric narrative in a more altruist light.
This does not take the great service such reconstruction may do to science.  Excerpts below: